Monitor food temperature, create employee checklists and stay HACCP compliant.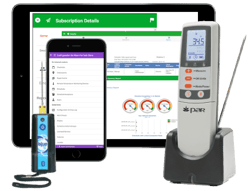 Food Safety standards are rising, and your brand doesn't need the tarnish of a food safety problem. Implementing preventative measures to combat food-borne illnesses and to meet industry regulations is now more important than ever.
Procurant SureCheck is a leader in food safety measurement and task management in retail and foodservice operations around the world. Every day our customers are running millions of temperature checks and observations to adhere to the highest standards for food safety.
Complete the form on this page to learn more about what Procurant can do to help you digitize and automate your food safety program.