Procurant Task (SureCheck) is a mobile task management solution that brings efficiency and automation to your operations.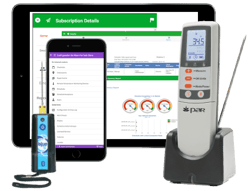 COVID-19 standards are confusing and changing every day. With business operations under the microscope like never before, implementing preventative measures to combat infection, illness and to meet a variety of regulations is now more important than ever.
Procurant Task is a digital task and food safety management system that:
Conducts daily, weekly, monthly required tasks right from a mobile device

Provides temperature measurement to ensure HACCP compliance

Offers unique schedule capabilities for any checklist

Digitally tracks cook-and-cool processes by individual food item

Records and stores all task observations within the Procurant cloud for anytime access.

Includes complete reporting, available through subscriptions

Provides corrective action alerts

Enables photo/video/audio capture with notes for accurate record keeping

Uses auto-advance checklist capabilities for a more rapid workflow
To learn more about what Procurant Task can do for your organization, complete the form on this page to request additional details or to set up a call with our team.